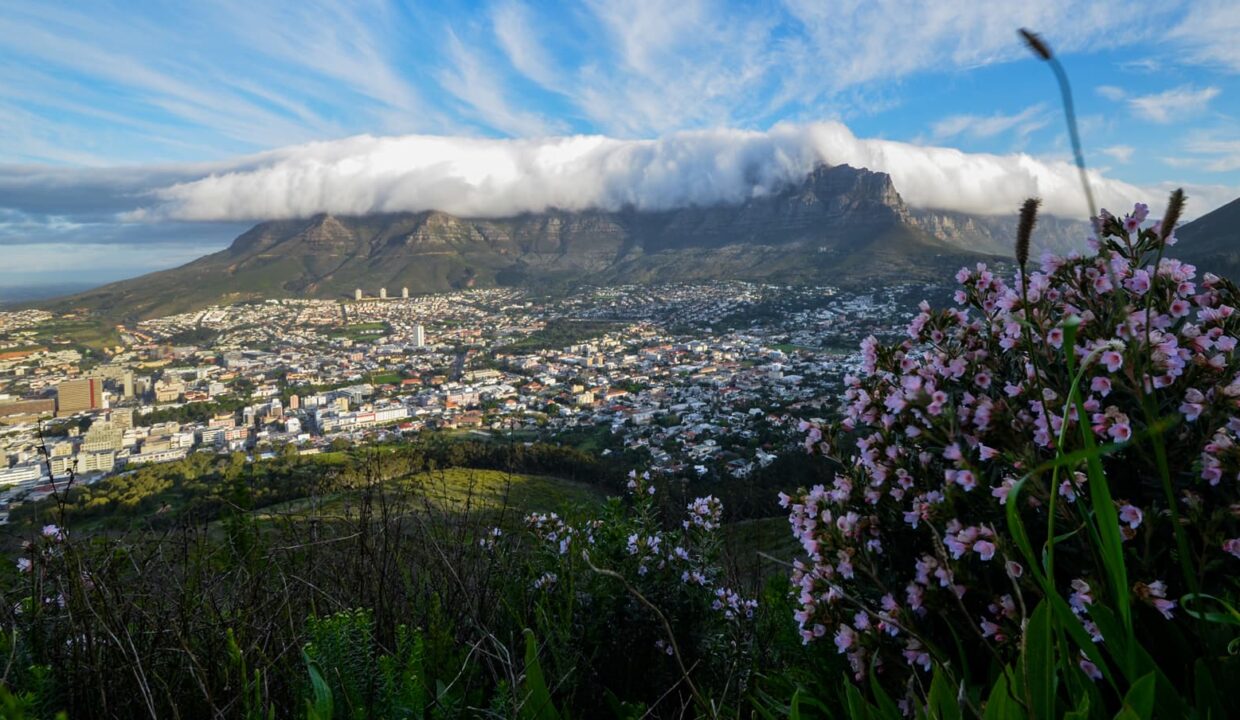 The Doctor Is In
A sure sign that summer proper is on its way is when, out of nowhere, the mild, sunny days of spring are interrupted by gale-force winds known by Capetonians as 'the Cape Doctor.' We humans have a short memory when it comes to the weather. Every late spring we are surprised by the intensity of the gusts that howl through the streets of the Mother City, flipping large trucks and causing pedestrians to hang onto lamp posts in order to stay upright. This year the Doctor arrived early, and the hurricane winds that blew for days on end ripped the tiles off roofs, uprooted trees and whipped the ocean into a frenzy. It stops as suddenly as it starts, and in the welcome lull that follows everyone exhales and heads back to the beach. Happily, our windy days are interspersed by long spells of perfect summer weather, and often the wind only picks up mid-afternoon. Some summers are practically wind-free, while others can be breezier.
It is a commonly held belief that the Cape Doctor got its name due to the fact that it blows smog and pollution out of the city, but in fact the name originated several hundred years ago when strong seasonal winds sometimes prevented ships from entering Cape Town harbour. Often these ships were carriers of Typhoid and other diseases. When ships couldn't dock, the city's inhabitants were safe. You'll always know that the South Easter is blowing when a thick 'tablecloth' of cloud covers Table Mountain. The South Easter is usually accompanied by fair weather, so if you find a sheltered spot you can still enjoy being outdoors. If, however, it is accompanied by a cut-off low as happens in spring and autumn, it can cause heavy rains to fall. This phenomenon is known as a Black South Easter.
While early summer's sporadic windy spells can be annoying, it is the reason Cape Town is such a popular destination for sailing, windsurfing and kite-surfing, hosting the yearly international Red Bull King of the Air kite-surfing competition. It is also the reason why the sea along the Atlantic Seaboard is often a magnificent, Caribbean island-like shade of turquoise. Wind-driven upwelling happens when dense, cooler water from the deep moves upwards towards the ocean surface, replacing the warmer surface water. The result is clean, clear, and inviting bright blue hues. This is when you want to pack a picnic basket and make a day of it. Clifton beaches First and Fourth are popular with the 'in' crowd who go to see and be seen, but Bakoven, Beta and Barley beaches are great options if you want to chill and unwind, undisturbed.
Foreigners to our city are amazed by the ease and inexpensiveness of our hospitality industry. If you didn't get it together to pack snacks and all that swimming and sunbathing have made you hungry, Uber Eats or Mr Delivery will bring whatever you want to eat or drink directly to your beach towel: fresh fruit smoothies, delicious salads, sushi or pizza are all just a tap away. And as the hot sun softens and shadows lengthen the beach just gets better. This is when the volleyball/sundowner set arrive. As a huge, red sun sinks into the ocean and dusk gently settles on the city, candles and lamps are lit and generous blankets are laid out on the soft, white sand. Somewhere on a distant rock somebody will be drumming. Often the strains of a lone guitarist will carry on the air. The dark silhouettes of evening swimmers can be seen moving through the waves. Cape Town's summer is magical indeed.
Lance Real Estate is based in Fresnaye, Cape Town and covers the Atlantic Seaboard from the Waterfront to Camps Bay. With over 23 years' experience in the most sought-after residential areas in Africa, Lance Real Estate has sold over R 1 billion worth of properties in the last 3 years.
It is this hands-on knowledge that sets Lance Real Estate apart from our competition. We have built an extensive database of buyers and sellers over the last 2 decades who have grown to trust our market knowledge and depend on us to negotiate the best possible deal in any property negotiation.
We are now extending our reach and taking on houses and apartments for sale from the Waterfront through to Camps Bay.
If you are looking for a remarkable agency to buy, rent or sell your property on the Atlantic Seaboard, our friendly customer care team is a phone call away.
We also have a range of holiday rentals to offer. If you appreciate beautiful African sunsets over the sea and sublime mountain views, then visit our holiday rentals section on our website.
Contact
Email: info@lancerealestate.co
Tel: +27 82 416 6103
Credits: Cape Town Tourism