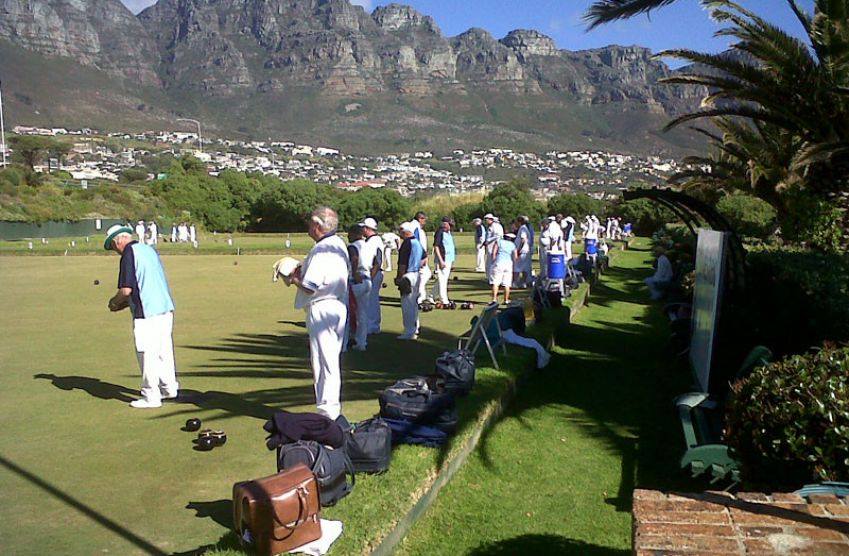 Go Clubbing
A happy event for Capetonians has been the long-awaited opening of our sports and social clubs. Cape Town is an active, health-conscious city, and its great climate allows for year-long outdoor activities. These venues come highly recommended.
Swiss Tennis Club
A Swiss tennis club in Cape Town? Actually there are two, one in Tamboerskloof and one in Green Point. The first club, on the Green Point Common, was founded in 1923 and initially it was purely social. When a number of Swiss immigrants arrived in 1932 a choir was formed along with football and tennis sections and a rifle club. When Cape Town hosted the FIFA World Cup in 2010, the clubhouse was demolished to make way for a new football stadium. A brand new clubhouse was built and launched at the same time as the football event kicked off.
The Tamboerskloof Tennis Club, as it was once known, dates back to 1928, and it is in the heart of the city, situated in an old brick quarry and commanding lovely views of Table Mountain and Lion's head. Since it became Swiss in 2012 it has undergone a big upgrade including new floodlights, two newly surfaced courts and a bigger, renovated clubhouse. This club allows tennis players of all ages and levels to participate in in-house tournaments, and its trophies date back to 1936. It has a table tennis table, a rooftop terrace and braai facilities, and its vibrant social calendar includes braais, breakfasts and quiz evenings.
The Glen Country Club
Situated on the Clifton reserve and enjoying some of the most expensive and sought-after real estate in the city, the Glen Country Club is a contender for the sporting facility with the best view in the world. Its location on the edge of the ocean looks out over Camps Bay, Lion's Head and the Twelve Apostles, commanding an unbroken vista of the Atlantic Ocean's famous sunsets. Founded in 1955, this club plays host to a number of sporting events including bowls, tennis, 'Teddy tennis' for children, paragliding and Fives Futbol.
If sport isn't your thing, you can hire this stunning venue to host all sorts of events. Its adjacent restaurant, The Bungalow, is the epitome of Cape Town chic where champagne, cool beats and sexy sunsets are the order of the day. Book a table and enjoy some of the Cape's incredible seafood, like the whole baby Kingklip or fresh tuna (we have some of the best and cleanest fishing waters in the world). Or, if you've just wandered in from the beach, kick back on a couch under the marquee with a cocktail and a sushi platter to share.
Fresnaye Sports Club
One of the Atlantic Seaboard's best-kept secrets is this beautifully appointed Sports Club, hidden from the south-easter and also commanding gorgeous views of the sea and Lion's Head. This club, much-loved by locals, has been around since 1928, and it offers six well-maintained hard tennis courts for professional and friendly matches and a large bowling green. Its well-stocked bar and large TV screen make it a good place to enjoy big matches, and its braai facilities are popular during long summer evenings.
Hellenic Greek International Club
Amongst the many immigrants who traveled to the Cape in search of better prospects were Greeks. The first wave arrived during the Anglo-Boer War of 1899-1902, while the years between 1950 and 1970 saw the arrival of a further 15000. Opportunities abounded for these industrious and entrepreneurial newcomers, and before long, money was being raised to build Greek Orthodox churches, schools and halls for hosting social events. In 1979, the decision was made to build Mouille Point's Hellenic Club on Bay Road.
A lavish inauguration marked the completion of the project in 1983 which, to this day, celebrates the culture, religion and heritage of Cape Town's vibrant Greek community. It is also here, in a field behind Somerset Hospital, that a friendly match between friends resulted in the origins of the Hellenic Football Club, currently situated in Milnerton. Happily, you don't have to be Greek to visit the Greek Club restaurant, a popular place to indulge in a feast of Greek delights made in the old-school, granny's recipe way. Share a selection of tasty starters (you can't go wrong with Taramasalata, Spanakopita and homemade Dolmades), indulge in a proper souvlaki and end it all off with the obligatory baklava. You'll think you've died and gone to Paros. Opa!
Lance Real Estate is based in Fresnaye, Cape Town and covers the Atlantic Seaboard from the Waterfront to Camps Bay. With over 23 years' experience in the most sought-after residential areas in Africa, Lance Real Estate has sold over R 1 billion worth of properties in the last 3 years.
It is this hands-on knowledge that sets Lance Real Estate apart from our competition. We have built an extensive database of buyers and sellers over the last 2 decades who have grown to trust our market knowledge and depend on us to negotiate the best possible deal in any property negotiation.
We are now extending our reach and taking on houses and apartments for sale from the Waterfront through to Camps Bay.
If you are looking for a remarkable agency to buy, rent or sell your property on the Atlantic Seaboard, our friendly customer care team is a phone call away.
We also have a range of holiday rentals to offer. If you appreciate beautiful African sunsets over the sea and sublime mountain views, then visit our holiday rentals section on our website.
Contact
Email: info@lancerealestate.co
Tel: +27 82 416 6103
Website: http://www.lancerealestate.co
#lancerealestate #capetown #capetownproperty #southafricanriviera
Credits: Swiss & Austrian Social Club Glen Country Club Fresnaye Tennis Club Hellenic Community Of Cape Town