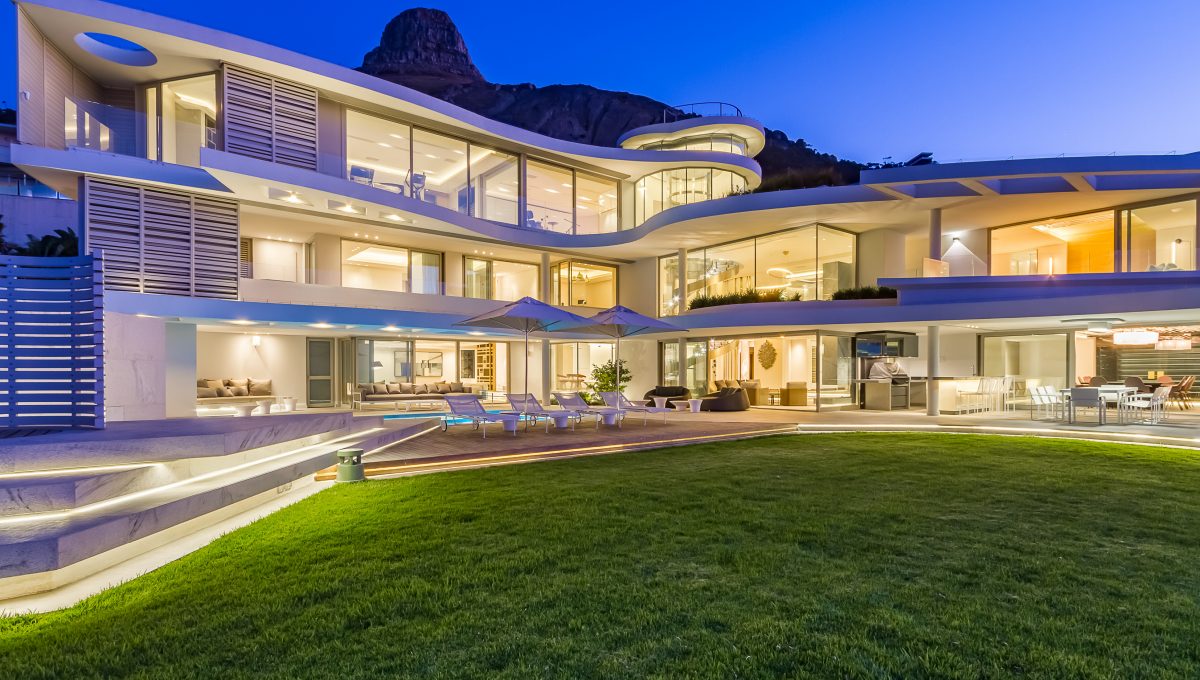 French Fresnaye
The affluent suburb of Fresnaye (or, 'Fraynaye' as some prefer) perches atop Sea Point on the Western slopes of Signal Hill, commanding an ocean panorama breathtaking in its expansiveness. Its unbroken view of the Atlantic coupled with a virtually windless situation (a huge plus during a typical Cape Town summer) makes it a coveted location in a city where one is, really, spoilt for choice. This is because Fresnaye pretty much has everything — sun all day, shelter from the south-easter, easy proximity to Sea Point and the CBD, and… did we mention the views?
Its gorgeous location has resulted in some of the most extraordinary homes in all of South Africa, where walls of glass, vertical gardens and indoor/outdoor spaces are the order of the day. For a newcomer driving up its palm-lined avenues, the suburb's French street names are probably puzzling and might seem a little pretentious, but not if you look at its history. The area we now call Fresnaye was originally an estate of 200 acres purchased early in the 1800s. It belonged to a descendant of the French Huguenots, an aristocratic barrister called Ryk Le Sueur from Bayeux in Normandy. The estate was called Winterslust, and at the time the farmhouse was one of only two buildings on the mountain slopes, that and Heeren Huis near Bantry Bay which was built in 1776. At the time the farmhouse was surrounded by vineyards and orchards and — understandably — was referred to as a 'Garden of Eden.'
The French Huguenots who settled at the Cape had a big influence on its society, most notably with regard to viticulture and wine-making. Before their large-scale arrival in the 17th century, a small number of French settled here, including the wife of governor Jan van Riebeeck, Maria de La Quellerie. After the Edict of Nantes – which granted religious freedom to Protestants – was revoked in 1685, a larger number of immigrants began to arrive on Cape shores, sometimes en masse, sometimes as individual families. Unfortunately, the Dutch East India Company wanted the new arrivals to assimilate into Dutch society, so their farms were purposely spread out amongst Dutch farms and the language of correspondence and instruction in schools was strictly Dutch.
The distinctness of their identity was slowly diminished as the newcomers integrated and married into Dutch families. But, while the language and culture were lost, traces remain in a proliferation of French surnames (De Villers, Joubert, Fourie, Malherbe, le Roux to name but a few), French street names and the entire town of Franschoek, or, 'French corner' (originally le Coin Francais) where many settlers were allocated farms. To this day, farm names make it easy to discern where the original French farmers came from – La Motte, La Cotte, Chamonix, Cabriere, Dieu Donne and Provence are among some of the earliest farms, and most still retain the original farmhouse.
While vineyards already existed and wine was being produced at the Cape, it was the French settlers who refined the art of wine, vinegar and brandy-making. It is in no small part due to their knowledge of viticulture and agricultural skills that Cape wines evolved to become some of the finest in the world. And it is due to the arrival of immigrants from all corners of the globe that the Cape Town of today is one of the most interesting and cosmopolitan cities in the world. Traces of the courageous souls who braved dangerous ocean voyages to start new lives in a thoroughly unknown milieu on the southernmost tip of Africa remind us of our place in history; those who came before us, those who will remain after we are gone. The vineyards and orchards of the 1800s have long been replaced by roads and houses, but this little French corner of Cape Town will always be trés magnifique.
Lance Real Estate is based in Fresnaye, Cape Town and covers the Atlantic Seaboard from the Waterfront to Camps Bay. With over 23 years' experience in the most sought-after residential areas in Africa, Lance Real Estate has sold over R 1 billion worth of properties in the last 3 years.
It is this hands-on knowledge that sets Lance Real Estate apart from our competition. We have built an extensive database of buyers and sellers over the last 2 decades who have grown to trust our market knowledge and depend on us to negotiate the best possible deal in any property negotiation.
We are now extending our reach and taking on houses and apartments for sale from the Waterfront through to Camps Bay.
If you are looking for a remarkable agency to buy, rent or sell your property on the Atlantic Seaboard, our friendly customer care team is a phone call away.
We also have a range of holiday rentals to offer. If you appreciate beautiful African sunsets over the sea and sublime mountain views, then visit our holiday rentals section on our website.
Contact
Email: info@lancerealestate.co
Tel: +27 82 416 6103
Website: http://www.lancerealestate.co
#lancerealestate #capetown #capetownproperty