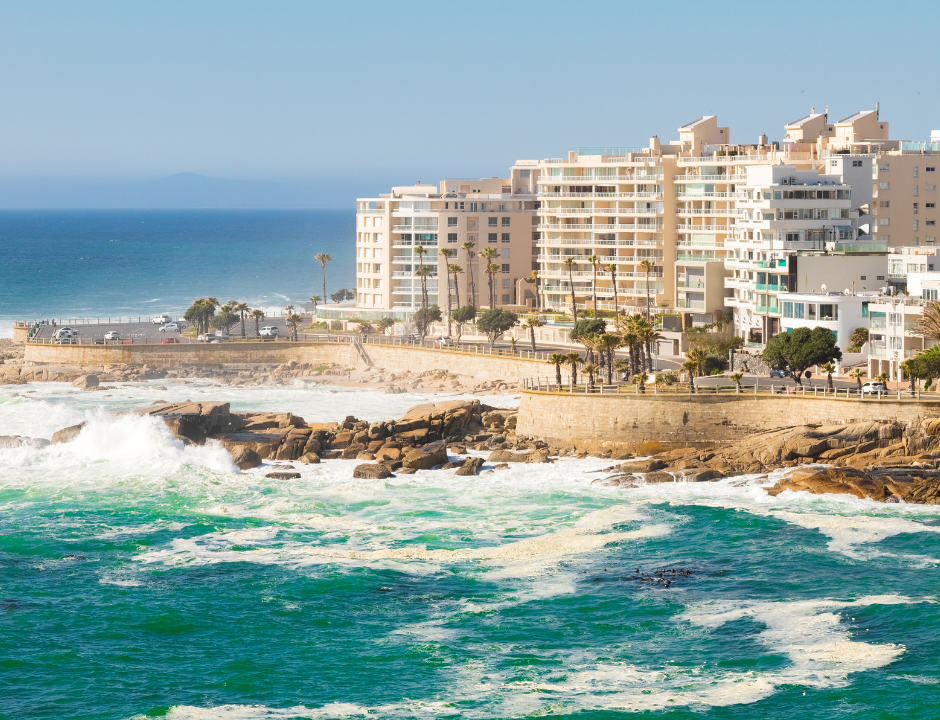 Baywatch
The beautiful and exclusive suburb of Bantry Bay lies on the lower slopes of Lion's Head, overlooking a rocky coastline and a wild, mesmerizing stretch of ocean. When you turn into Saunder's Road from Victoria Road, your proximity to the waves is nothing short of stunning. Snuggled between Sea Point and Clifton, Bantry Bay was originally called Botany Bay after a botanical garden which was planted here for the cultivation of medicinal herbs. With natural protection from the wind, this gorgeous corner of Cape Town gets around 290 wind-free days a year, making it one of the most protected areas in the city. According to property data, Ocean View Drive in Bantry Bay is the most expensive street in Cape Town – and for good reason. Bantry Bay hugs the coastline which means its homes have jaw-dropping views, and its easy access to the CBD, Waterfront and Sea Point's Green Belt makes it a highly sought-after address.
At the south end of nearby Queen's Beach and clearly visible from the promenade are a group of unusual-looking, strangely striated rocks. These are known as 'Darwin's Rocks,' after a visit by the well-renowned evolution theorist on his famed 1886 journey on the HMS Beagle. According to geologists, these rocks are an example of how hot magma (a high-temperature mixture of molten or semi-molten rock) intruded into and 'baked' the sedimentary rock which then cooled into the granite. These rocks constitute a geological wonder as they are a 'contact' between granite and the sedimentary rock that forms Signal Hill. This important discovery provided proof that rocks could form from molten material beneath the earth. Other than the Galapagos Islands, Darwin made his longest stop at the Cape of Good Hope.
If you're interested in natural history or just want to take in some beautiful scenery and learn a few facts about the world we live in, the Darwin Trail Cycle will take you in the footsteps of the world's best-known natural scientist. You'll learn about discoveries made on the Atlantic Seaboard while enjoying a gentle, three-hour ride along a stunning stretch of ocean. The tour leaves from the Radisson Blu Hotel at the Waterfront, follows the promenade to the beaches of Clifton, Camps Bay and Maiden's Cove, and returns via the lighthouse and the Green Point Urban Park. Back at the hotel, over canapés and cold drinks, you'll hear more about Darwin's fascinating journeys to the Cape, his sightings of elephant, rhinoceros, hippo and giraffe, and how he described Cape Town as "a great inn, on the great highway to the East."
Today, the combination of natural wonders, geographical beauty and world-class infrastructure and hospitality make Cape Town an extremely attractive location, and Bantry Bay has some of the most exclusive hotels, spas and restaurants in the country. While the Atlantic Ocean is cold in the summer, a quick dip in the morning is a wonderful way to stay cool through the heat of a typical summer's day. While our beaches are currently off-limits, it won't be long till they open up again. In the meantime, eternity pools with achingly lovely sunset views are not a bad substitute. Let's drink a toast to happier, healthier 2021.
Lance Real Estate is based in Fresnaye, Cape Town and covers the Atlantic Seaboard from the Waterfront to Camps Bay. With over 23 years' experience in the most sought-after residential areas in Africa, Lance Real Estate has sold over R 1 billion worth of properties in the last 3 years.
It is this hands-on knowledge that sets Lance Real Estate apart from our competition. We have built an extensive database of buyers and sellers over the last 2 decades who have grown to trust our market knowledge and depend on us to negotiate the best possible deal in any property negotiation.
We are now extending our reach and taking on houses and apartments for sale from the Waterfront through to Llandudno.
If you are looking for a remarkable agency to buy, rent or sell your property on the Atlantic Seaboard, our friendly customer care team is a phone call away.
For a list of properties we have for sale in Bantry Bay click here:
We also have a range of holiday rentals to offer. If you appreciate beautiful African sunsets over the sea and sublime mountain views, then visit our holiday rentals section on our website.
Contact
Email: info@lancerealestate.co
Tel: +27 82 416 6103
Credits: Gavin Schluter, Graeme Sonnenburg