A Walk Through Bo Kaap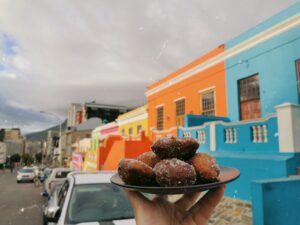 The imam's Call to Prayer drifting on the evening air is as intrinsic to Cape Town as our flat-topped mountain and Bo Kaap, the old Malay Quarter, is probably the city's most recognisable neighbourhood. Situated at the foot of Signal Hill, the area's modest homes are a mix of Cape Dutch and Georgian architecture and were once 'huurhuisjes', or 'rental houses' built for slaves who had come to the Cape from Malaysia, Indonesia and the broader African continent. In those days slaves were not allowed to own property, and by law the houses had to be painted white. When these laws changed and the occupants were given permission to finally own their own homes, the facades were painted in Bo Kaap's distinctively bright colours as an expression of joy and freedom.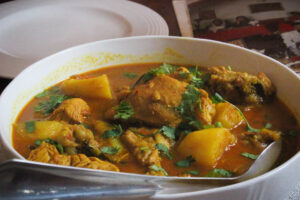 Bo Kaap, with its steep and narrow cobbled roads, has been home to the same families for many generations and important events in the Muslim calendar, like Eid and Ramadan, are celebrated by the community just like they were hundreds of years ago. The oldest building in Bo Kaap houses the Bo Kaap museum which depicts the lifestyle of a traditional nineteenth-century Muslim family and dates back to the 1760s. The first established mosque in South Africa, Auwel Mosque, is also in Bo Kaap and was built in 1794. The first imam in the Cape, Tuan Guru, was a religious leader and a political prisoner who famously wrote the entire Quran from memory. It is a source of pride and importance to the Bo Kaap community and is on display at the Auwel Mosque.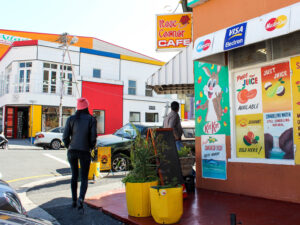 While District Six was razed in the 1960s due to apartheid's Group Areas Act, Bo Kaap remains a living reminder of the fascinating history of this city, and the people who came and went and settled here over the centuries. And no visit to Bo Kaap (or Cape Town, for that matter) is complete without tasting Cape Malay cuisine. This cuisine, unique to the Western Cape, is a fusion of cultural traditions and is known for its fruity, spicy and full-bodied flavours. In the kitchens of Bo Kaap, old family recipes are loving recorded and passed down through the generations: roasts, breyanis, bobotie and curries, served on long tables at weddings and funerals. And the first place to go to procure spices and condiments is the well-known and much loved Atlas Trading.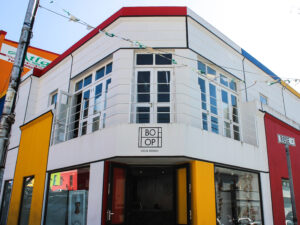 Established in 1946, Atlas Trading is a family-owned business, and these purveyors of fine spices, rice and rare products source their wares from India and all around the globe. From well-known curry mixes like mother-in-law masala to lesser-known, exotic ingredients such as Sajiera and Methi Kasoori, some of Atlas's spices are bought in India and ground on the premises to ensure their purity and quality. Whether it's samoosas or sosaties or syrupy koe'sisters you're wanting, you'll find all the ingredients on Atlas's shelves. If cooking isn't your thing, pop into the Rose Corner cafe for a 'warm worsie' (a hot, pink sausage) or some of the crispiest, tastiest samoosas in town. Or, if you prefer to sit down, the Bo Kaap Deli is open for breakfast, brunch and coffee while the Bo Kaap Kombuis has a breathtaking view of Table Mountain and a mouthwatering menu featuring a wide assortment of Cape Malay delights.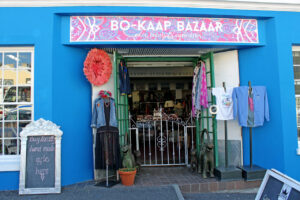 High on Signal Hill above the neighbourhood of Bo Kaap and with unparalleled views of the mountain and city are the new Dorp Hotel, a creative masterpiece of Georgian-inspired buildings, terraces, balconies and untamed garden. This quirky, nostalgic, entirely unique hotel looks and feels more like a private hangout for like-minded, creative souls. Its layered rugs and high ceilings, twin mirrored staircases and minute attention to detail give it an evocative, historic atmosphere that is beautifully in keeping with the neighbourhood in which it resides. The ample lounge-cum-dining-room is filled with Persian rugs, plants and antiques. Like Cape Town, it is old and new; shabby and chic in more-or-less equal measures. This is a city of contradictions, steeped in history and culture, but brimming with energy and soul.
Lance Real Estate is based in Fresnaye, Cape Town and covers the Atlantic Seaboard from the City Bowl to Hout Bay. With over 23 years experience in the most sought-after residential areas in Africa, Lance Real Estate has sold over R 1 billion worth of properties in the last 3 years.
It is this hands-on knowledge that sets Lance Real Estate apart from our competition. We have built an extensive database of buyers and sellers over the last 2 decades who have grown to trust our market knowledge and depend on us to negotiate the best possible deal in any property negotiation.
For a list of properties we have for sale on the Atlantic Seaboard click here: https://www.lancerealestate.co/
Contact
Email: info@lancerealestate.co
Tel: +27 82 416 6103
Credits:
Atlas Trading Company
Cape Town Tourism